Discuss partner management
Sexual partners from the previous six months should be notified.
Strategies for partner management
Patients often opt for telling their partners themselves. A simple message is often best, for example:
Hey, my chlamydia test is positive and you might have it too. You should head to your GP for a STI test. Sorry to give you this news but I thought it was better that you knew.
Provide patients with a factsheet (click here for one) about chlamydia to help them with the conversation, or to give to their partners.
Patients can also use anonymous notification tools. These are:
PDPT is useful for heterosexual patients with anogenital or oropharyngeal chlamydia whose partners are unable or unlikely to seek care themselves.3 Regulations for PDPT vary from state to state, and GPs should check their local regulations with their relevant health department. Click here for more information about PDPT.
Intimate partner violence and partner notification
If there are concerns about partner violence, contact specialist sexual health clinics or public health units directly for advice regarding partner notification. Refer to the RACGP White Book (Abuse and violence: Working with our patients in general practice) for further information. 1800RESPECT also has information, counselling and support services for the general public.
Tricky questions
Chlamydia infections can sometimes bring up some tricky issues for the patient. Below are some suggestions for answers to some questions that may arise. You can also read more about chlamydia infections here.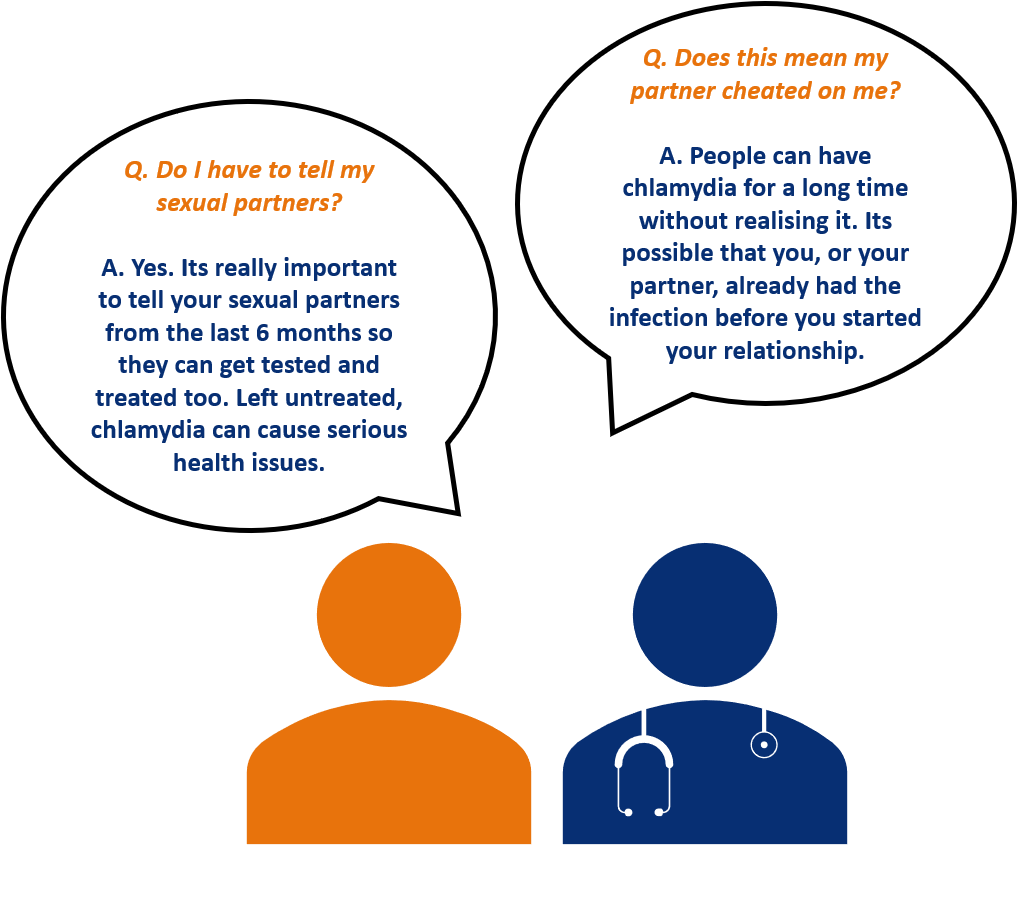 Patient resources for partner management
For a patient factsheet about chlamydia, including information about telling partners and answers to tricky questions
For all patient resources, click below

---
References
1. Unemo M, Bradshaw CS, Hocking JS, et al. Sexually transmitted infections: challenges ahead. Lancet Infect Dis. 2017;17(8):e235-e79. Available from: https://www.ncbi.nlm.nih.gov/pubmed/28701272
2. Huffam S, Chow EPF, Leeyaphan C, et al. Chlamydia Infection Between Men and Women: A Cross-Sectional Study of Heterosexual Partnerships. Open Forum Infect Dis. 2017;4(3). Available from: https://www.ncbi.nlm.nih.gov/pubmed/28979921
3. Australasian Society for HIV Viral Hepatitis and Sexual Health Medicine. Australasian Contact Tracing Guidelines 2016 [updated 2016; cited 2019 31st January]. Available from: http://contacttracing.ashm.org.au/contact-tracing-guidance/patient-delivered-partner-therapy