Reinfection is common. Retest for reinfection in the index case at 3 months.
Supporting patients to retest for reinfection
Discuss the need for and importance of retesting in 3 months with your patient in their appointment for treatment and the process for doing so. See below for options for organising retesting: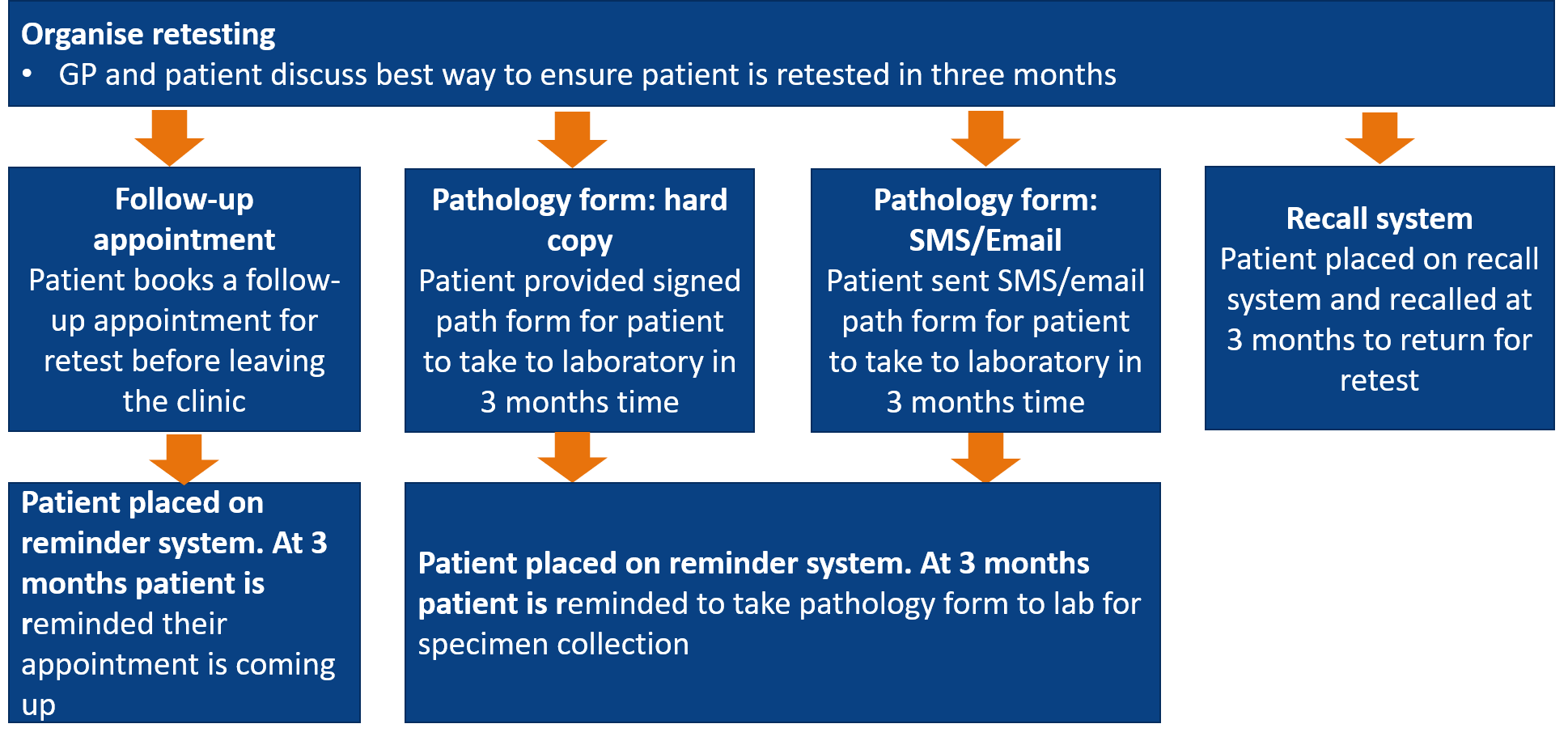 Whatever option is chosen, reminders for retesting are useful to support the patient to return for their retest.
Patient resouces for retesting
For a patient factsheet about chlamydia, including retesting
For more patient resources, click below
GP resources for retesting
For all GP resources, click below
---
References
1. Davies B, Ward H, Leung S, et al. Heterogeneity in Risk of Pelvic Inflammatory Diseases After Chlamydia Infection: A Population-Based Study in Manitoba, Canada. J Infect. 2014;210(Suppl 2):S549-S55. Available from: https://www.ncbi.nlm.nih.gov/pubmed/25381374
2. Walker J, Tabrizi SN, Fairley CK, et al. Chlamydia trachomatis Incidence and Re-Infection among Young Women – Behavioural and Microbiological Characteristics. PLOS ONE. 2012;7(5):e37778. Available from: https://www.ncbi.nlm.nih.gov/pubmed/22662220
3. Fung M, Scott KC, Kent CK, et alChlamydial and gonococcal reinfection among men: a systematic review of data to evaluate the need for retestingSexually Transmitted Infections 2007;83:304-309. Available from: https://www.ncbi.nlm.nih.gov/pubmed/17166889